Briar Street Theater Seating Chart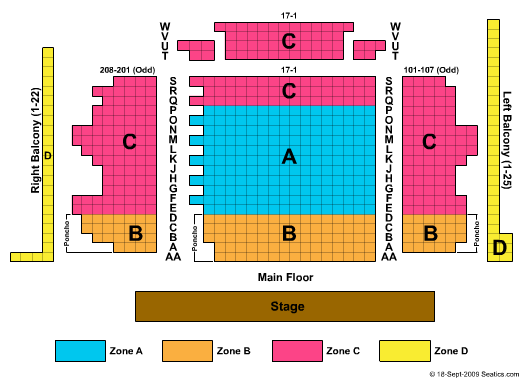 The theater has 625 seats and all of it are designed to be in perfect view of the stage. It is believed that the layout is extremely flexible in terms of guest seating and the conversion to film as well as for TV production.
The dimensions of the Briar Street Theater's stage is a forestage of 38'w x 20′, a width of 36'4″, a depth of 32′, and a height of 23′ to the grid. The theater is also wheelchair accessible and offers closed-circuit headsets for free.
The first 5 rows are labeled the "Poncho Seats". Ponchos are provided by the theatre to protect the audience members from the elements coming from the stage. We highly recommend patrons to sit in these rows to gain the full experience of the Blue Man Group show.
There is also an element known as the "late alarm" that will be set off when an audience member walks in late and they leave the venue at the end of the night sufficiently embarrassed. Note: Do not arrive late if you do not want all that attention to be on you!
To purchase your tickets to the Blue Man Group show, click the link below that we have for you.
Reserve your seat and order your tickets today! Visit the events page to get started.
For more information on the ticket policy and the preferred ticket provider please view the Briar Street Theater tickets page.
For all upcoming events at the Briar Street Theatre please view the Briar Street Theater events page.